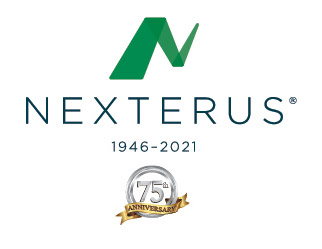 4th Generation Family-Owned Supply Chain Company Marks Successful Milestone
NEW FREEDOM, Pa. – (January 2021) – Nexterus, a world-class leader in supply chain management and technology, celebrated its 75th anniversary in January 2021. The Nexterus management team recently reflected on the company's pioneering efforts in the world of outsourced transportation management, its successful growth over the years, and the continued commitment to its clients going forward.
Since 1946, Nexterus has been a family-owned business.
The company was founded by A. Allan Polakoff, a Brooklyn-born attorney and former industrial traffic manager. Originally known as Transportation Bureau of Baltimore, and later TBB and TBB Global Logistics, the company has always specialized in serving the needs of the small and mid-sized (SME) company. Nexterus views itself as the champion of the little guy. In that role, the company researches best practices of the world's most efficient supply chains and brings those solutions to the SME marketplace in scalable and affordable applications.
The current management team is led by President and CEO Sam Polakoff and Chief Operating Officer Ryan Polakoff — the third and fourth generations of the Polakoff family to lead this privately-held company.
"From the day my grandfather started this company, Nexterus has maintained the same 'calling' as an organization – regardless of the service portfolio, we have always helped SME customers level the playing field with their biggest competitors. That philosophy is as strong as ever at our company," said Sam Polakoff. "We are very appreciative of our customers and employees who have made this journey possible."
The first Transportation Management System (TMS)
Over the decades, Nexterus has expanded far beyond the early days of clipboards and handwritten ledgers to creating what's believed to be the first Transportation Management System (TMS) in the late 1980s. Continued advancements in that technology, along with industry-leading strategies in supply chain modeling, optimization, and management give Nexterus customers real-time technology to make their businesses run more effectively.
First to offer outsourced logistics
Nexterus was also the country's first to offer what is commonly known today as outsourced logistics. This offering was envisioned by Jay Polakoff, the family's second generation. With two acquisitions, the company expanded to international logistics in the early 2000's. Nexterus is the America's oldest, privately-held company of its kind.
"Nexterus has grown and thrived thanks to the vision of my great-grandfather and the tireless drive of our management team and employees," said Ryan Polakoff. "While we are focused on the future of this business, we are always grateful for the hard work and dedication of those who came before us and who set a high bar that we strive to reach every day."
---

About Nexterus
Nexterus is a supply chain engineering and technology firm that has been helping small to mid-sized companies effectively compete in the global marketplace since 1946. Nexterus provides solutions to complex business issues, applying our expertise and best-in-class technology to model, optimize and manage global supply chain strategies.